Nicola Sturgeon has apologised after accepting her government "did not get it right" over Scottish exam results.
With no exams sat this year due to the coronavirus pandemic, the Scottish Qualifications Authority (SQA) ran a system based on teacher assessments.
However, officials then applied a moderation technique which led to about 125,000 estimates being downgraded.
The first minister said this approach was too focused on the "overall system" and not enough on individual pupils.
Education Secretary John Swinney will set out the government's plan to fix the issue on Tuesday, with Ms Sturgeon saying the onus would not be on students to submit appeals.
Opposition parties are pushing for a vote of no confidence in the education secretary, but Ms Sturgeon said she had faith in Mr Swinney and that the row was "not party political".
A-level results in England, Wales and Northern Ireland are due out on Thursday.
Prime Minister Boris Johnson said he understood the "anxiety" over grades, and that "we will do our best to ensure that the hard work of pupils is properly reflected".
Exams across the UK were cancelled this year due to the pandemic, leading to the use of systems based on teacher assessments.
In Scotland this was moderated at a national level by the SQA, a process which led to thousands of pupils complaining that they had received lower grades than originally estimated.
There was particular criticism after Higher pass rates for pupils in the most deprived data zones were reduced by 15.2%, in comparison with 6.9% for pupils from the most affluent backgrounds.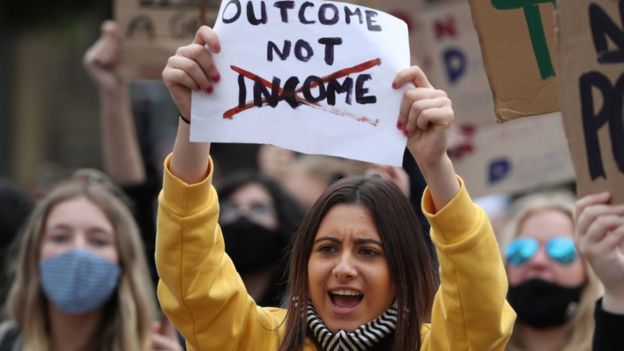 The Scottish children's commissioner's office said pupils from more deprived areas had been downgraded based on the historic performance of their school rather than their performance.
Ms Sturgeon said young people in more deprived areas might be concluding that "the system is stacked against them", and that she was "not prepared to have that outcome".
Mr Swinney had signalled a u-turn on Sunday, saying he had "heard the anger of students" over the row.
At her daily coronavirus briefing, Ms Sturgeon said steps would be taken to "address concerns" and "ensure that every young person gets a grade that recognises the work they have done".
She said ministers had taken "decisions we thought were the right ones" in unprecedented circumstances, but after "a lot of soul searching" had now accepted they were not right.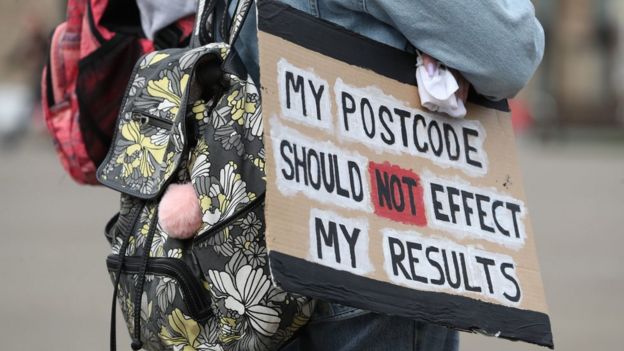 She said: "Our concern, which was to make sure the grades young people got were as valid as in any other year, perhaps led us to think too much about the overall system and not enough about the individual pupil.
"That has meant too many students feel they have lost out on grades they should have had, and that that has happened not as a result of anything they have done but a statistical model or algorithm.
"Despite our best intentions I do acknowledge that we did not get this right and I am sorry for that."
Ms Sturgeon said her government would not "dig our heels in and defend a position that in our hearts we know we didn't get right".
Mr Swinney will set out plans for how to address the issue at Holyrood on Tuesday, but the first minister said "we will not expect every student who has been downgraded to appeal".
She added: "This is not the fault of students, and it should not be on students to fix it – that's on us, and we will set out tomorrow how we intend to do that."
The education secretary could also face a no-confidence vote tabled by Labour in the Scottish Parliament when it returns from recess this week.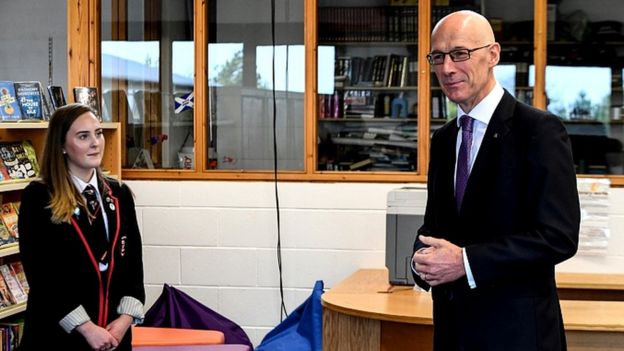 The Conservatives say they will support the motion and the Scottish Greens have indicated they would consider backing it if no changes are made.
Scottish Labour's education spokesman Iain Gray told BBC Radio's Good Morning Scotland programme that the "simplest and fairest" way would be to return grades to what teachers originally projected, saying that "anything else would fall short".
The Tories, meanwhile, have called for pupils to either be given a grade based on their prelim score or to be allowed to sit an exam in the autumn.
Ms Sturgeon said she had confidence in Mr Swinney, noting that governments in other parts of the UK were taking "broadly the same approach" to exam results "in difficult circumstances".